Romania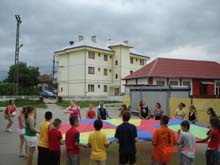 13th November 2000: The start of the first St. Ursula community in Romania. Despite diminishing strength St. Ursula in Brig wishes to let Christ?s light shine in Eastern Europe. The opening of a new mission in Romania has been a land mark for the Society of St. Ursula.
Three sisters from Indian Province cultivate this new field of work while being financially supported by the Motherhouse in Brig. Thus the sisters, by following the teachings of Anne de Xainctonge, the founder of the Society of St. Ursula, try to live by the Gospel.
The community of the sisters is situated in Baia Mare which belongs to the diocese of Satu Mare. People of Baia Mare speak mainly Romanian, minority speak Hungarian and very few speak German.