GRUSS aus St. Ursula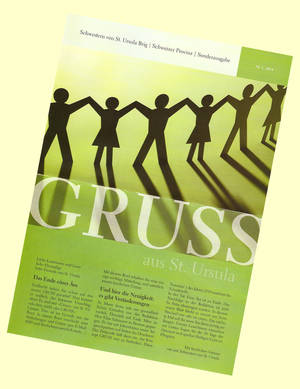 The GRUSS in a new LOOK
The "Gruss" is the regularly published house magazine of the Swiss Province of the Sisters of St. Ursula Brig. We send a "GRUSS aus St. Ursula" to our friends and to anybody being interested in our life.
You can subscribe to the "GRUSS" here per E-Mail.
or order it by phone: +41 (0)27 922 18 18.
If you are a new subscriber you will get the "GRUSS" free of charge till the end of 2014.
So far the GRUSS has been published as a 40-page brochure. The new GRUSS is different (see the picture close-by), just a kind of info-paper, size A4, mostly 4 pages, which will be published two or three times a year.
A detailed specification of the new concept you can find here --»»
Impressum: here --»»
(12.06.2014)