Latest:
Until further notice
no Sunday Mass in our Convent Church
Since the time of restrictions imposed to combat the Corona pandemic, we Sisters have celebrated the Eucharist on Sundays in our house chapel. Furthermore in the chapel it is possible for our sisters with disabilities and the elderly ones to celebrate in community and not just listen to the transmission in their room.
It has always been a joy for us to celebrate Eucharist together with our neighbours an other friends.
Still, you are very welcome to join us in our chapel to celebrate the Eucharist. Entrance at the front door of the convent.
(September 2022)
«« back
---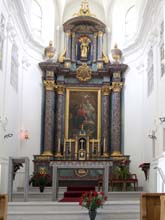 Church Services
In the Convent Church
| Day | Time | Type of service |
| --- | --- | --- |
| Sunday | 9:00 a.m. | Eucharist with homily |
| Feast days | like on Sundays | |
(updated in August 2016)
Services in the chapel --- »»